When it comes to finding the best dry shampoo for dark hair, the quest can feel as daunting as searching for your soulmate. Okay, maybe not that dramatic, but when you have darker shades of hair, your options in the dry shampoo aisle can be limited.
Brunettes Need Dry Shampoo, Too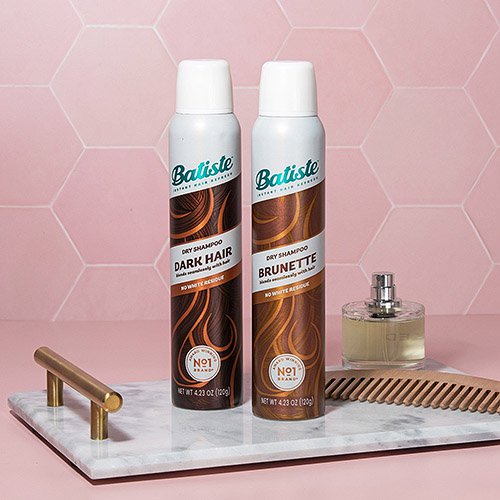 White residue from most dry shampoos can make dark hair look dusty, dull, or even gray. You need a dry shampoo that's made for darker hair. No need to keep swiping through bottle after bottle. Batiste Divine Dark and Beautiful Brunette Dry Shampoos are your matches – depending on just which shade of brown or black you're rocking.
Let's face it. There's no single "brown" or "dark" shade of hair. The range of hues that can be considered "brunette" goes from almost blond to blue-black. Batiste makes two formulas with a hint of color so you can find your best dry shampoo match for your hair.
Divine Dark blends in with roots ranging from chestnut or mahogany to raven and midnight black hues.
Beautiful Brunette is made for warm caramel and golden browns to coppery auburns to sweet chocolate cherry shades (and pssst it even works on redheads).
Choose the formula that is closest to your hair color and see how a dry shampoo made for darker hair can improve your life – and your locks.
Can I Cover My Roots with Colored Dry Shampoo?
Been a minute since you've touched up your color and your roots are getting rowdy? Dry shampoo with added color can be your little secret until you get to the salon. Get the Hint of Color formula closest to your strands' shade then apply to your roots to soak up oils and help them blend in. We won't tell.
How to Use Dry Shampoo on Dark Hair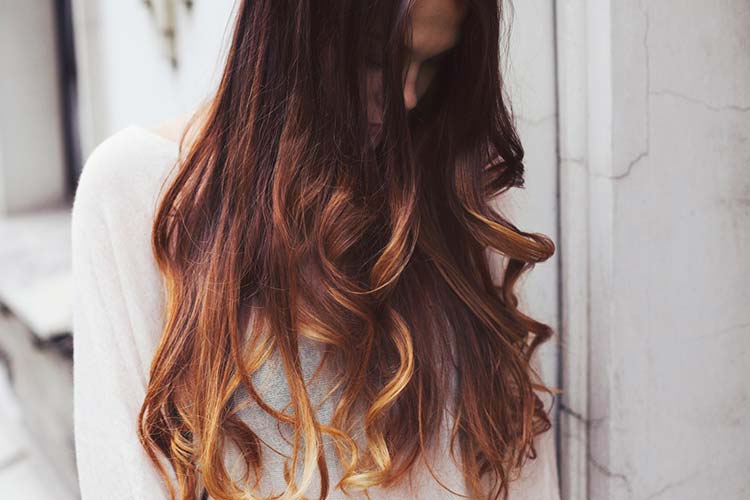 If you have dark hair, your dry shampoo should complement your locks, not contrast. Batiste's Divine Dark and Beautiful Brunette Dry Shampoos absorb oils, revitalize your hair, and extend good hair days without the effect of powdering your hair like a parliamentary wig. Formulated with a hint of color, these dry shampoos match your vibrant, dark hues and provide a foolproof finish. We've come a long way from baby powder.
When it comes to how to use dry shampoo on dark hair, it's not just about spraying. There are a few techniques that will take your dry shampoo-ing game up a level.
Shake the can of Batiste Divine Dark or Beautiful Brunette Dry Shampoo. Shake for around 20-30 seconds to thoroughly mix the product in the can. Do not skip this step!
Holding the can 10-12 inches from your scalp, spray the dry shampoo on the oiliest areas, typically the crown and hairline. Separate your hair into sections and apply at the roots. Your goal is to target specific areas, not spray a mist all over your hair like you would with hairspray. Don't forget the back of your head!
Wait about two minutes, then use your fingers to massage the dry shampoo on your scalp. This both feels great and allows the dry shampoo to work its magic.
After another 2-3 minutes, use your brush or comb to work the dry shampoo through your hair. Start at the roots and move the brush side-to-side slightly as you pull it through your hair. Tousle, style, tease or whatever you need to get your hair working for you.
A Drugstore Dry Shampoo Made for Brunettes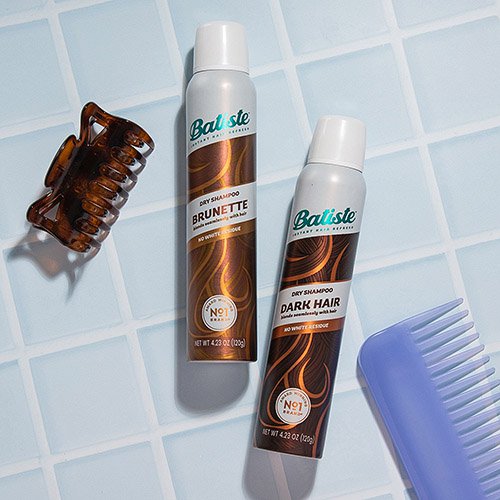 While you may need to get a second job to fund your skincare regimen, there's no need to spend a ton on a dry shampoo that leaves you feeling and looking your best. You can find Batiste dry shampoos in most drugstores, beauty supply stores, and even some discount retailers.
With a touch of pigment to blend with your roots, Batiste hint of color dry shampoos for dark hair and brunettes leave your hair refreshed and revitalized between wet shampoos, and smelling amazing, too. Notes of bergamot, white peach and vanilla bean give Batiste's brunette and dark-haired formulas an elegant and unique scent that's worthy of salon shelves, but with a drugstore price tag. Cha-ching!
What Is the Best Dry Shampoo for Dark Hair?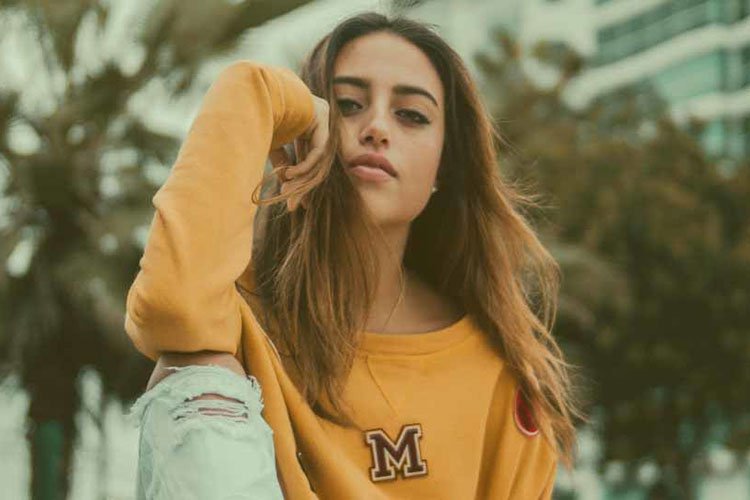 Batiste dry shampoo has got your back no matter your hair type or challenge. If you need to de-frizz, refresh, or volumize your hair, Batiste has a dry shampoo specifically for those needs. Go ahead and mix and match dry shampoo formulas to obtain the best results for your personal style and unique hair color and texture. Our "Hint of Color" line comes in hues for blondes, brunettes, and dark-hair, or try our variety of spicy, naughty or fresh dry shampoo scents to match any mood.