There's one essential workout item every gym bag needs: a can of Batiste™ Dry Shampoo in your favorite scent. Use it after your workout to get greasy after-gym hair feeling clean and fresh in an instant.
We've got answers to some common questions about dry shampoo and working out, some tips for how to absorb scalp sweat & oils, and some stylish after-gym hairstyle ideas.
Do You Use Dry Shampoo Before or After a Workout?
Use dry shampoo after a workout to get rid of the greasies and absorb dirt and oils at the roots. Massage into your scalp to distribute. It helps leave the scent and sweat of the gym behind. Whether you head out to meet friends or head in to work, you'll be feeling fresh and fabulous.
Should You Wash Your Hair After Working Out?
It's totally ok to skip washing your hair post workout. Over-washing can lead to dry, dull, damaged hair, and you don't always have time for a shampoo and style. Use dry shampoo to banish after-gym sweaty hair and look like it's day one again.
Is Dry Shampoo Good After Hitting the Gym?
Um, yes. Dry shampoo works great between washes and helps lift your locks and absorb oils after sweating it out. Towel dry or blow dry hair so it's not wet then spray dry shampoo in sections on your roots. Wait for the rice starch to absorb, then massage and brush or finger comb to distribute.
6 Tips for a Post-Workout Haircare Routine
Follow these tips for an after-gym hair routine that's quick, easy, and gets you back to the office or ready for drinks with friends in a matter of minutes.
Wear a headband when working out. You sweat most at your hairline around your face and at the nape of your neck. A headband can help lift your hair away from your oily zones and help absorb sweat during your workout.
Blast your roots with the hair dryer. To take the moisture out of your hair post-workout, use your hair dryer on the roots. Use a cool setting to get hair mostly dry. Remember, dry shampoo goes on dry – not wet – hair.
Focus on the oily zones: crown, temples, nape. Rinse these areas with water if you prefer, then dry. Use dry shampoo post workout on the roots at the crown of the head, around your face, and at the base of your neck. Turn your head upside down to spray the back of your neck, then shake your head to help distribute.
Leave your dry shampoo on longer. Before you distribute the dry shampoo from your roots by brushing or finger-combing, let it sit on your scalp a little longer than usual to begin absorbing – especially if you're not sure if you've stopped sweating.
Finish with a shimmer. After using dry shampoo on your roots to absorb sweat and oils, add a spritz of Batiste™ Touch of Gloss™ Shine Mist to your hair (spray mid-shaft to ends) for salon shine and a yummy scent.
5 Quick & Easy Post-Workout Updos
If you've followed the tips above, you'll be confident and ready to leave your hair down if you want, but here are some ideas for what to do with after-gym hair that's more than a limp ponytail. Keep an elastic or a scrunchie – or two¬ – in your gym bag with your Batiste™ Dry Shampoo!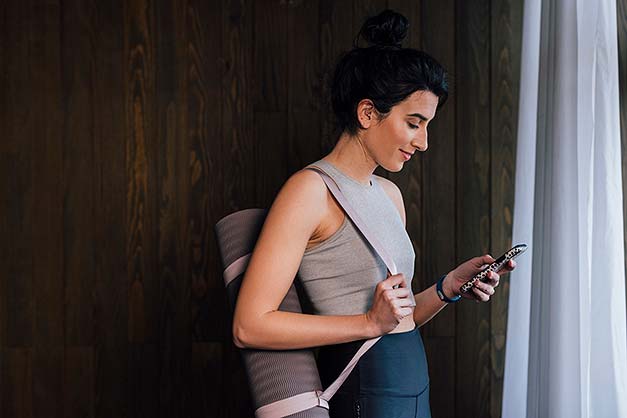 Messy bun. After the gym, gather your hair into a messy bun – go low or high for a chic top knot – pull out some fringe or tendrils and go!

Space buns. Side buns: they're not just for European milkmaids or space-opera princesses anymore! Section hair down the middle, gather into high ponytails, wrap into bouncy buns and conquer the galaxy. Try putting up all of your hair or doing a half-up, half-down to rock your best anime chick.

Triple bun mohawk. You'll be channeling the chosen one from a galaxy far, far away and looking stylish with these three messy buns down the center of your head. Section hair into top, middle, and bottom. Gather the top section into a top knot and create a bubble bun. Then do the same with the middle section at the back of your head, and again at the base of your head/top of your neck. The end result should be 3 (or more, depending on how much hair you have) smaller buns in a line like a mohawk.

Boxer/Dutch braids. Part your hair down the center, separating hair into two sections. Start braiding at the hairline and weave your way across the side and down. Use Batiste™ Touch of Gloss™ Shine Mist to help tame any frizz or flyaways.

Loose or braided ponytail. Pull your hair back into a loose ponytail and leave as is or add a soft braid at the end. Find more braided styles with our braids tutorials.
More Ways to Live Batiste
Read more from the Batiste™ library of great hair ideas:
Looking for more options? Shop all Batiste™ formulas to find your favorite.