It's the start of a new school year and you can't be caught lacking when it comes to your hair! You have your first day of school outfit planned, but what about your hair? Your hairstyle is the icing on top of your new look, and Batiste™ has some of the hottest hairstyles for you to try using Batiste™ dry shampoo, some hair ties, and not much more. Not only are these hairstyles majorly cute, they're also majorly easy – some you can literally style and then sleep on, saving you those precious extra minutes in the morning before heading off to class
Check out these easy hairstyles that you can rock on day one hair – or day 2, or 3, or however many days you go between your everything shower.
1.Heatless Curls
Curling your hair with a curling iron not only takes a long time in the morning, but also can cause heat damage to your tresses. Enter the new hottest no-heat hairstyle that will save you time in the morning – heatless curls! You can get a heatless curls kit online, but you can also do heatless curls using several items you probably already have in your house. Choose either an old bathrobe belt, a pair of leggings, or even some long socks. The method can vary slightly based on what you use, but generally the hairstyle is pretty straightforward and leaves you with beautiful, bouncy curls when you wake up!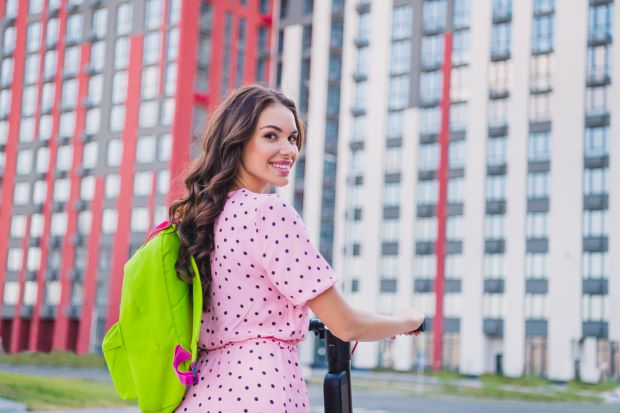 Steps
Start with slightly damp hair, and position your chosen long cloth centered on the top of your head.
Starting from the top of your head, wrap an inch-thick section of hair around the cloth.
Add another inch of hair every time you reach the front of your head again.
Spray with hair spray and secure with a scrunchie at the end of the hair
Repeat on the other side.
Let set for at least 3 hours.
Shake out your curls and enjoy!
Extend your heatless curls hairstyle another day by using Batiste™ Overnight Dry Shampoo before heading to bed, whenever you feel like your scalp is starting to look greasy. It's as easy as spray, shake, and sleep! In the morning, finger-comb your curls, touch up with more dry shampoo if needed, and get on with your day.
One of the great things about dry shampoo is its versatility. Not only does it refresh your hair, but it also adds volume and texture, making it perfect for those days when you want to add some oomph to your hair without having to spend hours in front of the mirror
2.Silk Press
Silk presses are a great way to get that perfectly sleek hairstyle for back to school if your natural hair is curlier and coily Silk presses are less damaging than a relaxer or texturizer since there are no chemicals used – all you need is a blow dryer and flat iron. Silk presses are also a great starting point to venture into other hairstyles like beachy waves or a slicked back bun. Whether you do it yourself or get it done in a salon, the silk press is a fun way to switch up your look for the school year!
Steps
Start with freshly washed and conditioned hair. Apply a heat protectant to your hair to prevent heat damage.
Section your hair into small parts and clip them away.
Blow dry your hair using a paddle brush or a round brush. Use the nozzle of the blow dryer to direct the airflow down the hair shaft and smooth out the cuticles. Keep the blow dryer moving constantly to prevent heat damage.
Once your hair is completely dry, use a flat iron to straighten your hair in small sections. Take a small section of hair and clamp the flat iron as close to the roots as possible. Slowly glide the flat iron down the length of the hair, using a comb to guide the hair through the flat iron. Repeat this until all your hair is straightened.
Apply a small amount of hair oil or serum to your hair to add shine and reduce frizz.
Style your hair as desired.
Keep your silk press fresh all week with a touch-up of Batiste™ dry shampoo at the roots when you feel a little oily.
3. Half Up Double Buns
If you want a new hairstyle that stands out from the crowds and can be yours in minutes, look no further than a half-up double bun! This is a great hairstyle to try if you have short hair since it only needs the hair on the top of the head. Depending on how much hair you have, your buns can be bigger or smaller.
The half-up double buns hairstyle also works for textured hair and helps keep your hair out of your face throughout the day. This hairstyle can also be done between washes on slightly dirty hair, since it will keep your buns more secure on your head. You can use Batiste™ Naturally Dry Shampoo on the roots on the lower half of your hair to control any excess grease that can make your hair look stringy.
Steps
Separate your hair in half, following from the top of your ears to the crown of your head. Tie or clip away the lower half to avoid picking up while styling.
Find your middle part and separate the two sections of hair. If you want to add a little pizzazz, try a zig zag part!
Smooth one half of your hair back into a ponytail at the top of your head and secure with an elastic. If you have textured hair, dampen your hair with some water beforehand to better snatch back your hair. For extra hold, use a gel when brushing the hair back.
Once in a ponytail, begin to twist the hair and then wrap around the base of the ponytail. Secure your bun with a couple bobby pins. If your hair is shorter, you'll want to loop your hair tie once more and pull your locks only halfway through to create a little bun. You can secure the loose ends in the back with bobby pins or clips.
Repeat on the other side.
Release the lower half of your hair and, if needed, add some Batiste™ dry shampoo to either absorb oil or add volume to finish your hairstyle.
4. Beachy Waves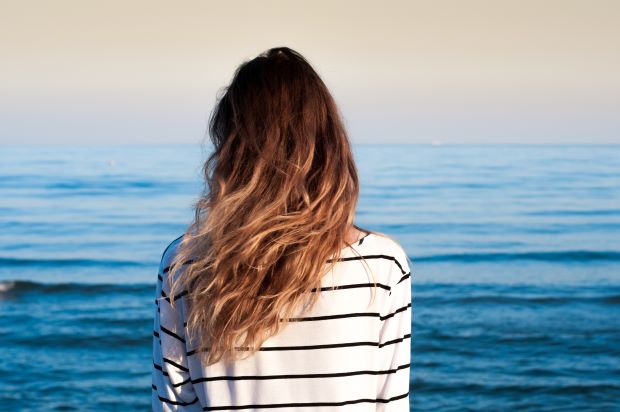 Beachy waves are super flattering and are easy to dress up or down depending on your aesthetic for the new school year. Though there are a number of ways to get tousled, beachy waves, this is our favorite easy method, which is also great on day two hair. You'll need a hairbrush, a curling iron with at least a 1-inch barrel, and some Batiste™ texturizing dry shampoo.Since the curling iron barrel is large, it should not take long to complete curling your hair.
Steps
Position the curling iron clamp facing forward and parallel to your face.
Clamp the hair 4 inches from the root and wrap the curl around the barrel.
Hold the iron in place until the hair is hot to the touch. Twist the hair out and release the barrel clamp to move further down the strand.
Repeat this process down each section of hair until completed.
Once all the hair is curled, lightly brush out the curls to create more of a wave.
Spray in a Batiste™ texturizing dry shampoo at the roots to soak up oils and add volume and texture to the hairstyle.
The best part about beach waves is how long they last. As the days go by, your gorgeous bouncy waves just get extra tousled. All you have to do is give your roots a couple sprays of Batiste™ volumizing dry shampoo on day two or three of the hairstyle to absorb any excess oil and boom, your locks are refreshed and ready to go!
5. Knotless Box Braids
@richieallyn Yall know I love me some knotless braids, but they start to look old so FAST. A week or two goes by and you already have crazy new growth. My go-to for braids upkeep is washing them and using braid refreshers. I never knew you could use dry shampoo on braids until I came across Batiste Dry Shampoo. Today is #NationalDryShampooDay and @Batiste_US is 30% off at @UltaBeauty! Extend your good hair days and save time so you can do more of what you love! Shop Batiste today at Ulta Beauty✨ #AD #batistepartner #dryshampoo #fyp ♬ Sere - mc yahooze‼️
One of the trendiest hairstyles for curly hair types is the knotless box braid. Knotless braids feed hair into your braided hair rather than creating a knot at the root, which can cause tension on the hair follicle and damage your hair. This technique helps reduce tension and stress on the scalp and hairline, making knotless box braids a more comfortable and protective hairstyle. Plus, knotless box braids can be more natural-looking and less bulky than traditional box braids. If you're feeling adventurous, you can even use fun-colored braiding hair like purple or green to switch up your look!
Be sure to oil your scalp at least once a week to keep your scalp from getting flaky and dry. Oiling your scalp will also help your baby hairs lay down and your braids appear neater. Knotless braids can last 6 weeks – you can keep your hairstyle fresh after the first couple weeks with a couple spritzes of Batiste™ dry shampoo. Just spray at your roots, massage in, and you're good to go.
6. Claw Clips Up-Do
Claw clips have been a huge trend for hairstyles recently, so this is the perfect back-to-school look – especially on those mornings when you've hit the snooze button (maybe many times) and are pressed for time! Claw clips hold your hair securely in place using the grips on its claws so you can run to class without messing up your hair. You may think using a claw clip is simple, but there are a couple different versions of hairstyles you can achieve using this hair accessory. Try this method for a more elevated claw clip style!
Steps
Section off the front pieces of your hair from the rest of your hair. Secure the rest of your hair up off the nape of your neck.
Dampen the front pieces of your hair and then part in your preferred style. Smooth the two pieces with gel and pull back into a small ponytail at the nape of the neck.
Let down the rest of your hair and collect it with the tiny ponytail underneath your head. If you have textured, coily hair, you should pull the rest of your hair into a ponytail for extra security.
Twist your hair and secure with the claw clip. If your hair is on the longer side, you can twist your hair and then pull up from the center of your hair to double up the hair for a less chaotic hairstyle.
This style is also great post-workout,or on days when your hair is just not cooperating with the humidity.
7. Slick Back Bun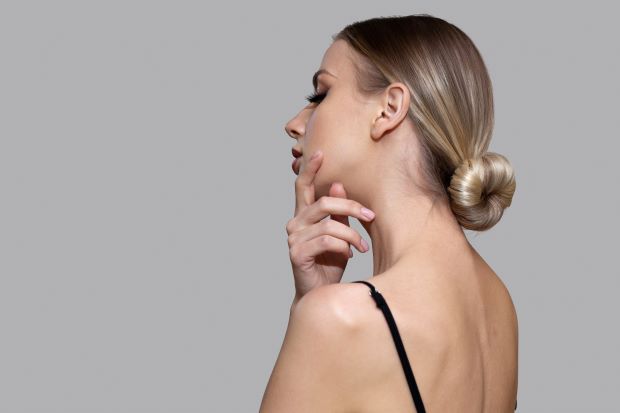 Best for day 2, 3, or whatever-day-it-is-at-this-point hair, the slicked back bun is a cute hairstyle that stays and slays all day. It's an off-duty model's favorite, and for good reason. It's sleek and easy to achieve when you want to wake up and get out the door. You will need a good hair gel and a boar brush to get your hair as smooth and sleek as possible.
Steps
Use water to dampen the hair and create your preferred part.
Brush your hair back towards the nape of the neck with a boar brush.
Smooth gel into the hair and finally secure the ponytail with an elastic.
Twist the hair and wrap it in a circle. Spray with hairspray and secure with bobby pins to finish.
8. Double Braid Pigtails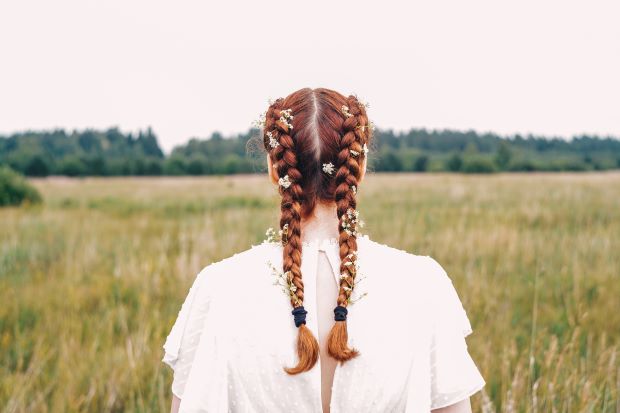 Double braided pigtails are a fun take on the traditional three-strand plait pigtails. Rather than looking like Pippi Longstocking, the double braids are trendy and feminine, especially when paired with the hottest accessory on social media: a ribbon. This hairstyle is another great option when your hair is a little dirty. Plus, it looks intentional rather than screaming I HAVE DIRTY HAIR like a messy bun on the top of your head.
Steps
If it's between washes and you're looking a bit oily, spray Batiste™ dry shampoo on your roots and massage into hair before beginning.
Section your hair into two halves down the back of your head.
Gather your hair into a ponytail about 1/3 of the way up your scalp from the base of your neck. Smooth and secure with an elasti
Split the ponytail in half and braid the first section like you would a normal braid and secure at the bottom with an elastic.Braid the second section of the ponytail the same way.
Repeat on the other side. Add a ribbon or barrette for added personality.
If you want a more advanced braid, you can also try this look with mermaid braids! Keep the braids going into the school year with a multitude of braid hairstyles to try out lu.From milkmaid braids to French braids, there's a cute style for everyday of the week.
9. Afro
If you have kinky, coily, or curly hair, an afro puff is a cute hairstyle that shows off your natural hair in all its glory! The style gained popularity in the 1960's and has remained a staple in hairstyles for textured hair. Though a pretty simple and straightforward style, many black figures like Angela Davis, Zendaya, and Amandla Stenberg have worn the afro puff. If you have worn mostly protective styles, try out an afro puff for this school year to rock the new year!
Steps
Start by using a wide-tooth comb or pick to gently detangle your hair from the ends up to the roots. Be gentle to avoid damaging your hair.
Apply a leave-in conditioner or moisturizer to help keep your hair hydrated and to make it easier to manage.
Use a styling gel or cream to define your curls and create the shape you want. Apply the product evenly throughout your hair, using your fingers to work it through from the roots to the ends.
Use a pick or wide-tooth comb to lift your hair from the roots, creating volume and shape. You can also use your fingers to fluff your hair and create additional volume.
Finally, use a hair pick or comb to shape your afro into the desired style. You can create a rounded shape or a more angular silhouette depending on your preference.
Don't let greasy hair ruin your afro after a couple days! Help keep oils at bay with Batiste™ Dry Shampoo sprayed on your roots for a quick morning refresh before running out the door. If you find your ends get dry easily, add the Batiste™ Overnight Hair Mask into your routine and wake up with healthy, bouncy curls and be the envy of the class!
10. Bubble Braids
If braiding isn't your strong suit, you may be surprised to find out that bubble braids are way easier than you expect – there aren't any actual plaits involved. This fun, youthful hairstyle is taken straight from Y2K so you can channel your inner Britney Spears or Christina Aguilera. You can make them tiny, or you can make them huge depending on your style, and they work on most hair lengths and most textures. Play around while styling and you'll find your perfect fit!
Steps
Part your hair in the middle of your head and follow down the back. Secure the two sections of hair just behind your ears. Or comb hair back into one ponytail for on the go.
About two inches down from the first elastic, tie in another elastic. Follow this formula down the entire ponytail.
Now pull the hair in between the elastics apart until you reach max bubble volume and repeat on the other side.
Make it extra Y2K with butterfly barrettes.
Tip: if you have thin or fine hair,add Batiste™ volumizing or texturizing dry shampoo to your roots before trying bubble braids to help make this style easier.
11. Wigs
Wigs are the ultimate style change for back-to-school! Long, short, blonde, or red, you can get a wig in practically any style you can dream of. Wigs can be made of natural hair, synthetic hair, or a blend of both. Synthetic hair is often cheaper (which is nice on the pockets) and available in a greater variety of colors, but synthetic wigs can't be styled with heat, so keep this in mind when choosing.
Dry shampoo can be used a couple of different ways for your wigs. If your synthetic wig is looking, well, plasticky, spray dry shampoo onto the hair and comb through gently to reduce the shine. If your wig is looking flat and lackluster, spray Batiste™ volumizing dry shampoo into the roots to bump up your look.
Achieve Your Best Hair with Batiste™
Never face a school day without the power of Batiste™ Dry Shampoo! Our extensive line of dry shampoos come in a variety of scents and benefits for your hair type, so there's one for everyone. For more information on using Batiste™ products, check out these articles: