Eye-catching, runway-radiant locks aren't just for celebrities. To restore luster to hair gone dull from straightening, coloring or styling, you've got 3 choices: hit the salon for a hair glaze, use a leave-in hair gloss, or restore shine in seconds (even between washes!) with a hair shine spray.
Don't have time to shampoo or head to the salon? Add an at-home gloss spray to your haircare routine to make hair shiny and smooth. Just a spritz of shine mist brings back the luster anytime you're feeling (or looking) a bit dull.
Choose a shine spray that's lightweight, smells great, and works for all hair types. Our favorite: Batiste Touch of Gloss Hair Shine Mist in three luscious scents. This lightweight hair shine spray brings a dewy glow to all types of hair – yes even if it's coarse, curly, or gray – for hair that sparkles and shimmers without being weighed down. Best of all, you can use it between washes (and after you use dry shampoo) to restore that clean, fresh feeling and the never-dull look you love.
Spray Batiste Touch of Gloss™ Hair Shine Mist on dry hair for an instant glimmer. It really is as easy as spritz-and-go!
No mess: Hands-free application with no mixing or pouring.
No shampoo: You don't have to hop in the shower or wash your hair to get shine.
No waiting: Instant change from dull to shiny and silky (and smelling great)!
No kidding: Seriously.
Step 1: Choose Your Favorite Hair Shine Spray
Batiste Touch of Gloss comes in three scents: Champagne Sorbet for a peachy bellini sparkle, Wildberry Blossom for a sun-kissed fruity shine, and Coconut Crush for days of ocean shimmers and sunglasses.
No need to shake the bottle! Batiste Touch of Gloss™ Hair Shine Mist is ready anytime. Just reach for the bottle, put your finger on the nozzle, and shiny, smooth sensations are seconds away.
Step 2: Find Where You Need Shine (Hint: the ends, not the roots!)
Your hair should be dry to use Batiste Touch of Gloss™ Hair Shine Mist. Clean or dirty, day one or day two – you can use Touch of Gloss alone anytime your hair is looking a little dull. If you're using a shine spray between washes, first spray your favorite Batiste Dry Shampoo on your roots and massage it in to absorb oil. Then use Touch of Gloss on the strands/tips of hair to add shine!
Step 3: Get Glossy! Spritz the Mist, Spray Shine on Your Strands
Holding the can 6" to 8" away from your head, evenly spray Batiste Touch of Gloss™ on the strands and/or ends of your hair. Got thin or fine hair? Start lightly then evaluate the texture and shine before adding more. Batiste Touch of Gloss™ is magical, and you don't need much to go from lacking luster to shine time.
Step 4: Turn Heads with Your Salon-Luscious Shine
Finger comb your hair to feel shiny, smooth texture or shake loose your locks, allowing the shine mist to catch the light and the attention.
Can I Use a Hair Shine Spray and a Dry Shampoo?
Why not both? Yup, Batiste™ Touch of Gloss Hair Shine Mist gets along with Batiste™ Dry Shampoos. The dynamic duo of a hair shine spray and dry shampoo can take your day two (or three or … we'll never tell) hair from uh-oh to oh yes in minutes. Keep a can of each at home and on-the-go and use these Batiste™ BFFs together: dry shampoo first to absorb oils at the roots and shine mist on the strands to amp up the gloss.
For a perfect pairing and complementary scents, try these Batiste™ Dry Shampoos with a Batiste™ Touch of Gloss™ partner:
Fresh Berry: Wildberry Blossom Shine Mist with Rose Gold Dry Shampoo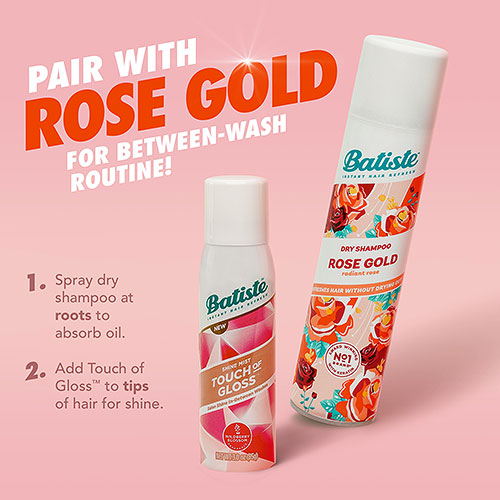 Blushing Bubble: Champagne Sorbet Shine Mist with Blush Dry Shampoo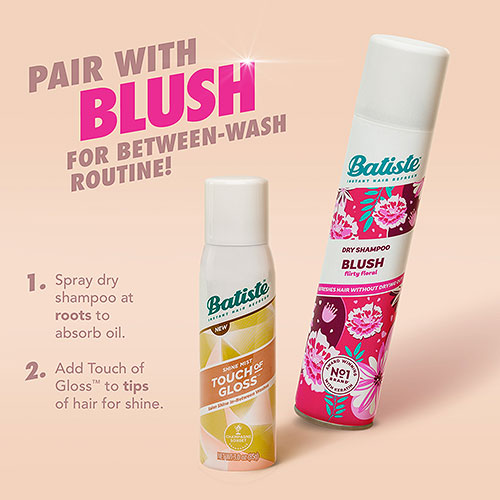 Beachy Bliss: Coconut Crush Shine Mist with Tropical Dry Shampoo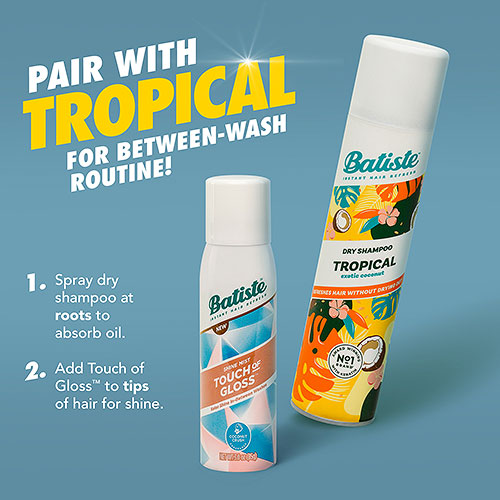 Hair Gloss Treatment at Home, Every Day
Hair glaze treatments at salons can give you the look, but unless you're a celeb, you're not hitting the salon on the regular. But that doesn't mean you have to give in to dull, unruly hair. Use Batiste Touch of Gloss™ Hair Shine Mist to keep even in-between-washes hair looking fresh and shiny.
Anytime you need to go from dull to delightful, a quick spritz of Touch of Gloss will give you smooth hair that looks shiny, feels fresh and smells great. No one needs to know you didn't spend hours at the salon, or that minutes ago you had bedhead or gym hair. With Batiste Touch of Gloss™ it's your time to shine.